Canoë / Kayak / Paddleboard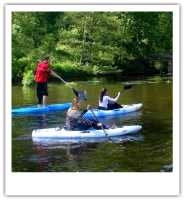 Kayaks et SUP's
Le Trieux est très prisé par les kayakistes, avec ses 50 moulins et déversoirs, tous équipés de passes. C'est l'endroit idéal pour explorer la beauté de la rivière et de la faune environnante. Nous avons un nombre limité de canoës / kayaks pouvant être empruntés pour de courtes périodes. Nous permettons également l'utilisation gratuite de notre vieille barque rivetée, qui peut emmener jusqu'à 5 personnes assises.

The Trieux with its 50 mills is highly popular to kayakers, and canoeists with many weirs equipped with kayaker friendly water shoots. This is the best way to explore this beautiful river, and a great way see its rich wildlife. We have a limited number of canoes, kayaks and tand up paddle boards that are free to borrow. We also allow free use of our 100+ year old riveted rowing boat, which can sit up to 5 people.

---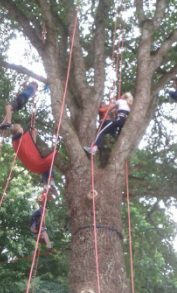 Grimpe d'Arbre / Tree climbing


A partir de 7 ans, venez experimenter les joies de la grimpe d'arbre, accompagnie d'un animateur expérimenté et diplômé.


From the age of 7, join a group for a tree climbing lesson by a professional tree climber
---
Randonnée / Hiking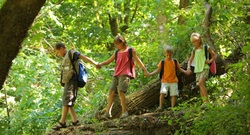 Randonnée sur le Trieux
Elle est située sur le parcours du GR 341 qui traverse la Bretagne, vous y trouverez de magnifiques chemins de randonnée le long de la rivière, mais aussi dans les bois environnants.

Le Pays de Guingamp vous offre également la possibilité de télécharger sur votre smartphone ces circuits de randonnées sur :http://mobile.paysdeguingamp.comLocated on the Trans-Brittany GR 341 route, superb walking routes lie in both directions along the river bank, whilst numerous circuits though the woodland and surrounding countryside also pass through the campsite and immediate vicinity. You may download the walking maps on this link: http://mobile.paysdeguingamp.com
---
Pêche / fishing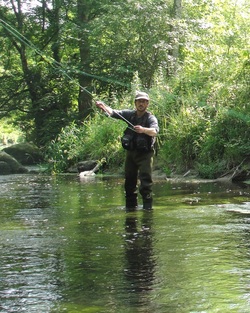 Le Trieux abrite une très belle population de truites sauvages et a la réputation d'être une des meilleures rivières à saumons de France. Positionné à côté de l'ancien moulin de Kerhré, la rivière offre des courants très variés, tranquille en amont et plus rapide en aval du déversoir. On y trouve des cachettes naturelles, des pools, des plats,et des radiers pour la satisfaction des pêcheurs de tous niveaux.
En amont du déversoir, l'eau plus profonde est plus adaptée aux espèces grossières, avec rotengles, gardons, anguilles et quelques brochets énormes tous présents mais rarement pêchés.

The Trieux is rated by the Federation de Peche as excellent for both brown trout and salmon fishing. Positioned by the weir of 'Milin Kerhre' there is the option of fishing in both slow or fast flowing water. Below the weir, lies a special section of the river where the minimum keep size of brown trout is 30 cm, and only 2 are allowed to be kept per day, resulting in a high density of trout to be caught. The wooded section downstream of the campsite is stunningly beautiful, with the pools and riffles offering challenge to all levels of angler. A section of river a few miles upstream is regularly stocked with rainbow trout. This unwooded section is particularly suitible for beginners.
Upstream of the weir, the deeper section is more suited to coarse species, with rudd, roach, eel and some enormous pike all present but rarely fished for.
---
VTT / Mountain-biking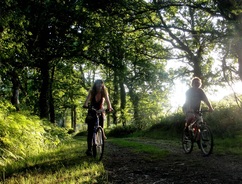 Circuit 73 (VTT 22), qui commence au camping
Plusieurs circuits de différents niveaux (12 à 31 km), longent le camping et permettent d'explorer la nature environnante.

Located adjacent to 2 recognised circuits with several variations, ranging from 12 to 31 km in distance, the campsite is perfectly positioned to intimately explore the rolling countryside of Cote d'Armor.






---
Observation de la nature / nature spotting

Salamandre
Dans La vallée du Trieux, la combinaison d'une rivière saine et d'un terrain boisé mature constitue un cadre idéal pour observer la nature. En flânant sur le chemin qui borde la rivière, vous pourrez observer des martins-pêcheurs, des truites ou des saumons, et même voir des ragondins (un rongeur géant d'Amérique du Sud). Si vous avez de la chance vous rencontrerez des campagnols aquatiques, loutres, écureuils rouges et vous pourrez même saluer le chevreuil. Au crépuscule, vous entendrez l'écho des appels de la chouette autour du camping et vous pourrez peut-être les apercevoir. Une grande colonie de chauves-souris rares Daubenton habite le moulin et peut être vue en groupe se nourrissant d'insectes à la surface de l'eau sous le pont. Une grande variété de papillons, de demoiselles et de libellules peut être facilement vue du milieu du printemps à la fin de l'été. Des dizaines d'espèces d'oiseaux ont jusqu'à présent été repérées, dont les aigrettes, les pics, et des parulines. Une grande diversité de scarabées, habite dans le bois en décomposition, y compris le cerf-volant. Pour ceux qui ont un peu de connaissances sur les habitats appropriés, couleuvres, orvets, lézards et les salamandres peuvent tous être trouvés sur le site.
---
.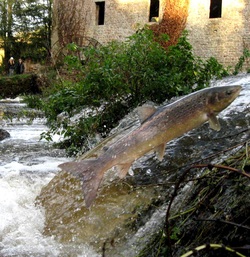 Saumon Atlantique sur le Trieux
The combination of the healthy river and mature woodland mean that the the Trieux valley is a perfect setting for viewing nature. Strolling quietly along a riverside path, you are almost certain to see kingfishers, trout or salmon jumping and even coypu (a giant south American rodent). There is also a fair chance that you may see watervoles, otters, red squirrels and at the right time of day, roe deer. At dusk tawney and barn owl calls eccho around the campsite and sightings are not uncommon. Also a large collony of the normally rare Daubenton bat inhabits the mill and can be seen in droves feeding on insects at the water surface below the bridge. A diverse selection butterflies, damselflies and dragonflies can be easily seen from mid-Spring through to late summer. Dozens of bird species have so far been spotted, including egrets, woodpeckers, warblers and nut hatchers. Around rotting wood, A high diversity of beatles including the giant stag can also be found. For those with a bit of knowledge on the suitible habitats, grass snakes, slow worms, lizzards and salamanders can all be found on the site.

---
Autres activites / other activities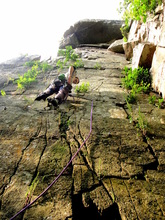 Rocher d'escalade
A deux minutes à pied du camping, un affleurement rocheux porte trois voies d'escalade boulonnées d'une difficulté avancée en raison du toit. Il y a aussi de nombreuses possibilités sur les blocs des forêts environnantes.

Les nageurs ont souvent recours à la rivière en amont du déversoir, mais pour tous les autres, une bonne piscine couverte se trouve à seulement 5 minutes en voiture de Guingamp.

Pour les jeunes, les bois sont parfaits pour les jeux de scout.





Two minutes walk along the river, downstream from the campsite, a rock-outcrop has three bolted climbing routes of an intermediate to advanced difficulty owing to the overhang. There are also some great possibilities for bouldering in the surrounding woodland.

Swimmers often use the river upstream of the weir, however for all others, a good indoor pool is only 5 minutes drive away in Guingamp.

For youth and so-inclined adults the woods are perfect for wide games


---