LES VILLES A VISITER / TOWNS TO VISIT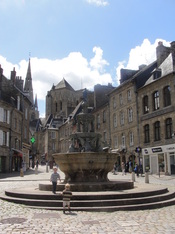 Fontaine de Guingamp
La Côte d'Armor est riche pour ses belles villes et villages en granit. A cinq minutes du camping on peut trouver la ville de
Guingamp
, ancrée dans cinq siècles d'histoire et de caractère (Visitez ot-guingamp.fr). Un peu en aval de nous sur le cours du Trieux est situé la petite ville pittoresque de
Pontrieux
, célèbre pour ses cinquante lavoirs avec plusieurs galeries d'art et des excursions en bateau en bateau populaires. Sur la côte nord-(25 min) les Ports de
Paimpol
et
Tréguier
valent bien une visite, avec ses rues pavées, restaurants de fruits de mer et l'architecture d'époque en abondance
The Côte d'armor is rich for its beautiful granite built towns and villages. Five minutes away is the market town of Guingamp, steeped in 5 centuries of history and character (Visit ot-guingamp.fr). A little down-stream from us along the the River Trieux is the quaint little town of Pontrieux, celebrated for its fifty 'lavoirs' with several art galleries and boat popular boat tours. On the north-coast (25 mins) the Ports of Paimpol and Treguier are well worth a visit, with cobbled streets, sea-food restaurants and period architecture galore
---
LES PLAGES / BEACHES
Plage Bonaparte
Entre 25 et 45 minutes en voiture, il y a une gamme diversifiée de belles plages et de criques rocheuses. Notre préférée, qui est une des plus proche, est la Plage Bonaparte (près de Plouha) où il y a du sable propre, baignade en toute sécurité et des falaises spectaculaires. Autre bonnes endroits pour les plages sont autour Plougrescant (nord de Tréguier), où il y a des jolies criques est des regroupements de petites îles dans toutes les directions. Un peu à l'ouest, et certainement à ne pas manquer est la Côte de Granit Rose, spectaculaire et bien nommé. Cela peut être bien vu sur le chemin qui part du petit village touristique de Ploumanac'h

Within 25-45 minutes there is a diverse range of beautiful beaches and rocky coves. Our personal favourite, which just happens to be one of the closest, is the Plage Bonaparte (near Plouha) where there is clean sand, safe swimming, dramatic cliffs and not a restaurant in sight. Our other favourite areas for beaches are around Plougrescant (North of Treguier), where there are some stunning coves teaming with little islands in every direction. A little to the west, and definitely not to be missed is the spectacular and aptly named Pink Granite Coast. This can be best seen on the coast path from the little tourist town of Ploumanac'h.


---
RESTAURANTS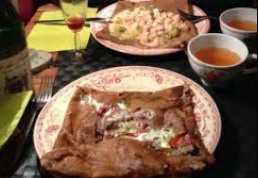 Crêpes et cidre
La Bretagne est reconnue pour ses galettes (sarrasin crêpes salées) et crêpes (crêpes du désert) et il n'y a pas de pénurie de crêperies à Guingamp et les villes avoisinantes. Notre préféré est 'le char à bancs', près de la ville de Plélo, qui est logé dans un moulin à eau qui tourne encore, avec ses beaux jardins, animaux de ferme et un grand espace de jeux pour enfants. Fruits de mer est également populaire avec de nombreux restaurants spécialisés à Paimpol et Tréguier. Notre choix préféré est le 'Crapaud Rouge,' à Treveneuc, qui se spécialise dans les moules frites, et situé à côte d' une belle plage


Brittany is renowned as the home of galettes (black-wheat savoury pancakes) and crêpes (desert pancakes and there is no shortage of creperies in Guingamp and the surrounding towns. Our personal favourite is the 'Char a bancs', near the town of Plelo, which is housed in a working watermill with beautiful grounds, farm animals and a great children's play area for guests to enjoy. Sea food is also popular with many specialist restaurants in Paimpol and Treguier. Our favourite is the 'Crapaud Rouge', in Treveneuc, which specialises in Moules frites (mussels and chips), with a terrace that looks over a lovely beach.
---
CHATEAUX ET FORTS / CASTLES AND FORTS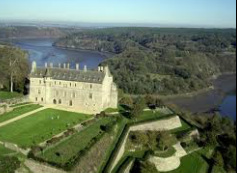 La Roche Jagu
Il y a de très beaux châteaux et châteaux forts dans la région. Pas loin d'ici,
La Roche Jagu
a toujours du succès en raison de très beaux jardins et un château imposant perché haut au-dessus du Trieux. Un peu plus loin, on trouve la forteresse médiévale fortifiée impressionnante de
Tonquedec
qui est situé dans un cadre magnifique dans la vallée du Léguer. Au large de la côte de Morlaix est le
Fort Taureau
'comme le Fort Boyard' qui est atteint par un trajet court en bateau.
There are some fantastic castles and forts in the area. The nearby Roche Jagu is always popular with campers due to is superbly landscaped grounds and imposing chateau perched up high above the Trieux. Slightly further afield is the impressively fortified medieval fort of Tonquedec which again is in a beautiful setting in the Leguer Valley. Off the coast of Morlaix is the 'fort boyard like' Fort of Taureau which is reached by a short boat trip
---
MARCHES / MARKETS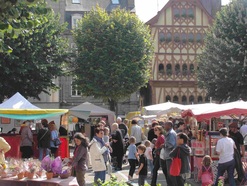 Marche de Guingamp
Généralement, toutes les villes ont un marché de rue un jour de la semaine, ce qui donne une excuse parfaite pour partir et explorer les villes locales. Au cours des weekend, et en particulier les dimanche, il y a toujours un vide grenier pas loin. Nous avons même eu notre évier de cuisine dans l'un de ceux-ci! Il y a souvent de la musique, de la nourriture et des jeux lors de ces événements. Chaque petit village détient généralement un ou deux d'entre eux chaque année, et comme avec les marchés réguliers ceux-ci seront annoncés chaque semaine sur tableau extérieur de la réception.

Generally, all towns have a street market one day of the week, which gives a perfect excuse to go off and explore the local towns. Over the weekends, and particularly on Sundays, 'vide greniers' are great fun events to visit. At these open-air flea markets you can pick up old collectables, furniture, toys, etc. There is often music, food and games at these events. Each little village generally holds one or two of these each year, and as with the regular markets these will be advertised each week on chalkboard outside the reception.
---
FESTIVALE DE LA SAINT LOUP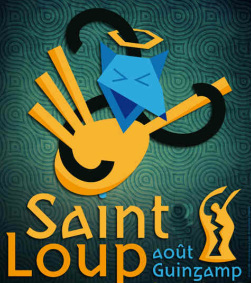 Les festivals combinés de «La Danse Bretonne» et «La Saint Loup» ont lieu chaque année à Guingamp. Pendant la journée danseurs remplissent les places en costume traditionnel tout en spectacles de musique traditionnelle et les soirs il y a des Fest Noz jusqu'au les petites heures du matin. Les festivals exécuter du 16 au 21th Août 2016 Guingamp, à 5 mn du camping). Visitez www.dansebretonne.com pour plus de détails
The week-long combined festivals of 'La Danse Bretonne' and 'La Saint Loup' take place annually in Guingamp. In the day dancers fill the squares in traditional costume whilst traditional music performances and Fest Noz' run into the small hours of the morning. The festivals run from 16th to 21th August 2016 in Guingamp, 5 mins from the campsite). Visit www.dansebretonne.com for details.
---