VOUS POUVEZ CHOISIR VOTRE EMPLACEMENT AVEC NOTRE SITE DE RÉSERVATION EN LIGNE!

YOU CAN CHOOSE YOUR PITCH WITH OUR ONLINE BOOKING SITE!
SI VOUS AVEZ UNE QUESTION ENVOYEZ NOUS UN E-MAIL! IF YOU HAVE ANY QUESTIONS PLEASE SEND US AN EMAIL!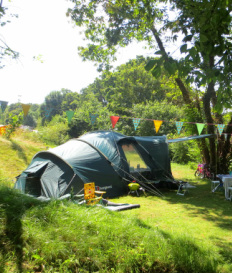 Le Camping de Milin Kerhé est situé en bordure de rivière, et entouré par la forêt, c' est l'endroit idéal pour pêcher, faire du Kayak, du VTT, de la randonnée, pour observer la nature, ou simplement se relaxer. Il est aussi a proximité des villes historiques de Guingamp, Pontrieux, Paimpol et Tréguier mais aussi le site exceptionnel de la Côte de Granit Rose.

Bordering the River Trieux and completely surrounded by woodland, the site is the perfect spot for fishing, kayaking, mountain-biking, hiking, nature spotting or simply relaxing. The site is ideally located for exploring the classic Breton towns of Guingamp, Pontrieux, Paimpol and Treguier as well as the magnificent Pink Granite Coast whilst only a short drive from Roscoff (1h) and Saint-Malo (1h30) ferry ports.
---
QUELQUES AVIS / SOME REVIEWS FROM VARIOUS WEBSITES
We think your campsite is absolutely fantastic, for both adults and children. You have created a wonderfully relaxed atmosphere in a very beautiful setting. There's always something to do such as kayaking, raft racing, fishing, swimming, or feeding the goats. If you want something more peaceful you can laze in a hammock or go for a leisurely walk. It was a real pleasure not to have to cook very much as there was a delicious BBQ, another communal meal, brilliant pizzas and scrumptious crepes and pancakes. Can't wait to come back, for longer next time. joanna jones

Le camping était très bien. Les sanitaires étaient les plus propres de tout les campings qu'on a fait! Les emplacements sont très chouettes. (Camilles, 13 ans, Paris).

Un très bon accueil dans un endroit en plein nature, calme, ressourçant. Le tipi est vraiment génial! Le feu de camp est super!! A refaire. (Elodie, Dunkerque)

This place is magical! We have had the most relaxing time and are very sad to leave. Thank you Jon and Maggie for your hospitality (Emma, Brendan & Archie, London, UK).

We've had a lovely restful stay. The canoes + water hole + woods are great, and of course the warm welcome. It's such a lovely place, it would be great to come back. (Paul & Julie, Bristol, Royaume Uni)

What a beautiful, peaceful location. We were made to feel very welcome and given plenty of helpful hints about what to go and see locally. We will definitely return! (Susie and Ally, London UK)

Der schönste fluß, den ich je gesehen habe und da waren viele. Voller zauber ist die Trieux, klein drachen fliegen übers wasser. Es ist ein wunderbarer platz hier und von leuten gehalten die so freundlich sind, wie das land. (Coco, Rothenstein, Allemagne)

Vielen dank für den aufenthalt auf ihrem wunderschönen campingplatz. Für unsre buben und auch fur uns ganz klar der tollste campingplatz unserer Bretagne reise:
-eine perfecte weise fur Abenteuerspiele, purzel baumschlagen usw.
-die beiden zwergziegen, die wir am liebsten mitnehmen..
-eine tolle kanufahrt fast wie am amazonas
-


Entreprises affiliées