EMPLACEMENTS / PITCHES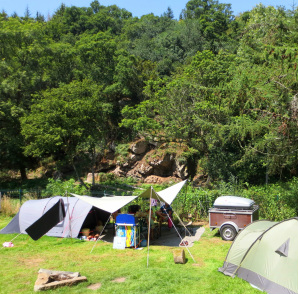 Nous avons fait de notre mieux pour nous démarquer des campings habituels ayant un éclairage excessif qui vous empêche de voir les étoiles, et des rangées de haies toutes droites. Nous avons une politique de plantation d'arbustes et d'arbres natifs entre les emplacements, et toutes nos fleurs sont les variétés sauvages. Pour aider à garder la beauté du site, nous ne n'autorisons pas l'accès aux grands camping-cars et caravanes. Certains emplacements ont un air de feu, mais ceux-ci sont en nombre limité, nous vous conseillons de réserver votre emplacement au plus tôt pour en obtenir un.

We have done our best to break the mold from typical French campsites with excessive lighting preventing you from seeing the stars, and perfectly trimmed hedges making you feel like you are camping in someone's back-garden. We have a policy of planting only native shrubs and trees between pitches, and our flowers are all wild meadow varieties. To help keep the beauty of the site we do not allow big campervans and caravans, and additionally these are only allowed in an allocated area of the site. If you would like a fire pit, some pitches have permanent pits, but these are limited in number, so you may need to book early to get one.


---
JEUX, LA RIVIERE ET LES ANIMAUX / GAMES, THE RIVER AND ANIMALS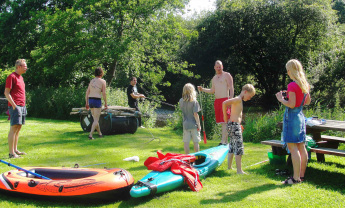 Nous avons un terrain de pétanque, de volley, une table de ping-pong et des jeux traditionnels en bois. En cas de pluie, nous avons une grange où les jeux peuvent être joués à l'abri. Vous pouvez nager dans la rivière au-dessus du déversoir ou patauger en dessous où il y a une très petite plage de sable. Des canoës peuvent être empruntés pour le montant de votre choix et de promenades en bateau et stand-up paddle (SUP) planches peuvent être loués pour une somme modique à la réception. Il y a un certain nombre d'animaux autour du site y compris des canards et des poules, des chèvres naines et un âne. Ceux-ci font le plaisir des enfants vous êtes autorisés à leur donner vos vieilles baguettes et épluchures de légumes.

We have a boules pitch, volleyball pitch, table tennis table and some traditional wooden games. In case of rain we have a barn where games can be played under shelter. The river is popular for swimming above the weir and paddling below the weir where there is a very small sandy beach. Canoes can be borrowed for free (although donations welcome for their use!) and the punting boat and stand-up paddle boards (SUPs) can be hired for a low fee at the reception. There are a number of animals around the site including ducks and hens, some miniature goats and a donkey. These are well used to children and enjoy feeding off your old baguettes and vegetable peelings.

---
ANIMATIONS ET REPAS / ENTERTAINMENT AND MEALS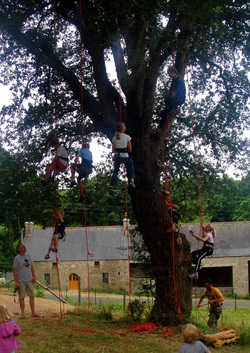 There is a big weekly BBQ every Tuesday, which for €9,00 you get plenty of food qnd drink and a good opportunity to meet other campers. Other evenings of the week either pizzas, crêpes or French dishes are available. A number of low key organised activities are held throughout the week. These include tree climbing, bat spotting and hot chocolate, cidre tasting/demonstration, raft races, childrens crafts, a day hike, and a night hike. These are all restricted toJuly and August only.
---
FACILITIES BLOCK AND RECEPTION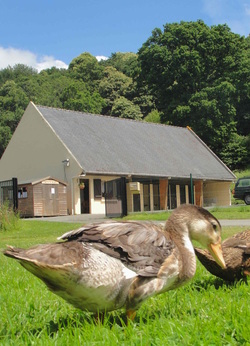 Our toilet block has everything you might expect. Hot showers (without tokens) men's and women's wash areas (with sockets for razors/ hair dryers), washing up sinks, basins for hand-washing clothes, and a washing machine. We do not provide toilet paper, but we do provide hand soap.


We now have a new and larger reception, allowing us display lots of useful tourist information flyers and maps etc. We sell an assortment of basic food items, chilled drinks and some very lovely farm-made ice-creams.



---
RENTALS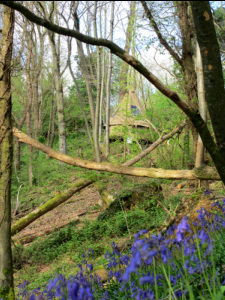 TENTE SUSPENDU / HANGING TENT

New for 2015, we have a rather superb hanging-tent up in the woodland. It is in a beautiful part of the woodland with 360° views from the interior. Uniquely, there are two levels, allowing separate areas for children and parents, or for sleeping and living. It has its own solar off-grid lighting unit and mp3 player, and a nearby composting toilet. It is only 2 minutes' walk down to the campsite.





---
MARRIAGES ET ANNIVERSAIRES / WEDDINGS AND BIRTHDAYS
If you're looking for a venue for a special event. We have a 5x12 marquee which we can rent on the campsite in the low season. Please contact us for more information.