RESERVEZ MAINTENANT POUR LES DEUX PREMIERES SEMAINES DE JUILLET, Il RESTE ENCORE DE LA PLACE!
BOOK NOW FOR THE FIRST TWO WEEKS OF JULY. WE STILL HAVE SPACE AVAILABLE THEN!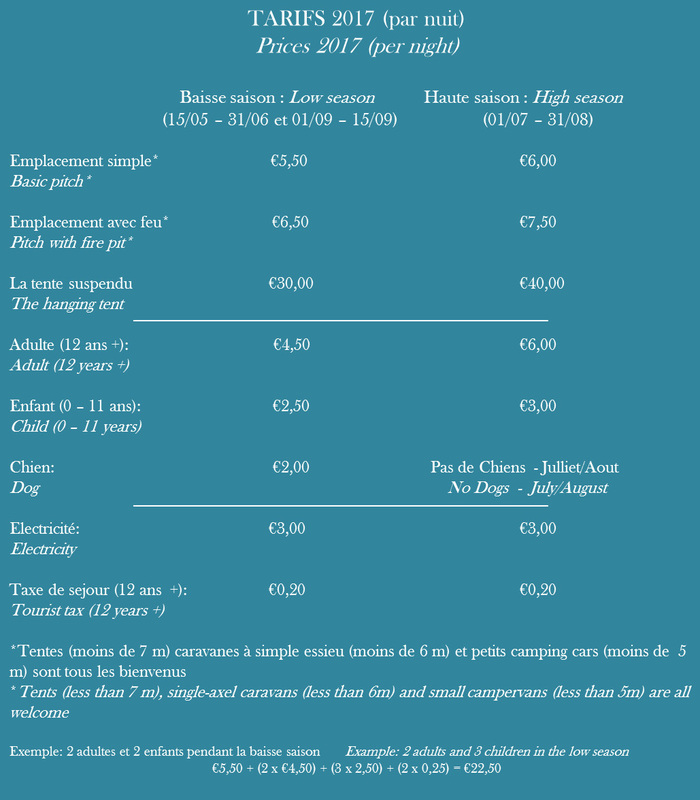 FAQ's

Q: Do we need to book?
A: We advise booking for all stays, especially if an electric hook up is required, but we are
unlikely to be full outside of July-August
Q:Est-il nécessaire de réserver?
R: Nous vous conseillons de réserver, surtout si vous souhaitez un emplacement avec électricité.

Q: Do we need to pay a deposit?
A: You will pay a deposit when you book online. In case of cancellation your deposit will not be refunded .
Q:Devons nous payer des arrhes?
R: Des arrhes vous serrons demandées lors de votre réservation en ligne. En cas d'annulations les arrhes serons perdu.

Q: How do we pay?
A: We have a card machine in July and August and we accept cash and French cheques.
Q: Comment payer?
R: Nous avons acceptons les cartes bancaire au mois de juillet - aout et les chèques Français.

Q:What time should we arrive and leave?
A:We ask that you arrive after 3pm, to give us time to mow, On the day of departure we ask that you leave by midday.

Q: Are campfires permitted and do you supply wood?
A: Yes to both. There are a number of pitches with fire pits, some portable fire pits and a communal fire pit.

Q: How do electric hook-ups work?
A: You need to specify when you book that you would like a pitch with electricity. Plugs are the French 2 pin type,, and we advise you bring a 20 m cable

Q: Where and when can we do our food shopping?
A: Generally shops are open from 9am until 7pm daily, except Sundays, when everything is closed. Nearby we have Intermarche, Carrefour, E Leclerc, and Lidl.